Rob presenting Best Original Screenplay

Kristen wins the Bafta Award for Rising Star!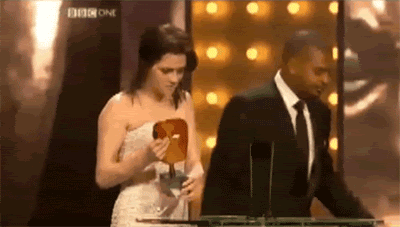 Her speech
Wow. Thank you. I guess first I have to thank all the fans of Twilight for proving again and again to be THE most devoted and attentive fans ever. Considering this is voted, credit is due to them so thank you. To the other actors nominated, I am so blown away by you that I can't even describe it. To be voted among you is just overwhelming. And I'd like to say hi to my family.
Rob's reaction at 1.39 min
Interview after her win
Empire's Interview with Kristen

Buttload of photos and material
Rob and Kristen at Afterparty (small details)

@TheGooseInsider Kristen and Rpatz have sneaked off.
According to Splashnews (agency that took the photo of them leaving) "Couple are keen to avoid photographers as they leave BAFTA afterparty at Grosvenor House hand in hand via a sidedoor"
Story from someone who was there and works in media

Rob is happy for Kristen
More photos
What Noel Clarke has to say about Kristen and the BAFTA's (he presented her the award)
We own nothing, we're just so very proud of Kristen!