Current Projects
*BEL AMI
- New posters:
- 'Bel Ami' will be shown at the Jameson Dublin International Film Festival 2012 (JDIFF)
It will be playing on February 19th at Cineworld 17 at 8:50 pm.
*Order tickets
HERE
*View the Festival Program
HERE
- On February 17 there will be a 'Bel Ami' Photocall and Press Conference before the world premiere at Berlinale, the Berlin Film Festival
- Rob talks about Bel Ami to the Herald Scotland
(LINK)
*BREAKING DAWN PART 1
- DVD Behind the Scenes videos
(LINK)
- MTV: The Birth Scene
(LINK)
- Breaking Dawn Part 1 has made almost 700 million worldwide.
Find links to all the events UPDATED with all available videos etc. here
(LINK)
* COSMOPOLIS
* No News.
* ON THE ROAD
- News about On the Road. The producer from OtR was in Paris too during the week.
Per Twitter:
"No technical problems w/ the film either,The film is well and truly over. They plan to make it big,to attract wide audience as possible." - acc. to @charlegillibert (Producer)
- There will be a On the Road special in French magazine Trois Couleurs:

From Albert C Hinkle's Facebook on January 24, 2012:
I have been contacted by Trois Couleurs, a French cultural magazine distributed by MK2, which is producing the On the Road movie. They will be publishing a 196-page special issue devoted to OTR, Jack and his friends in March, and they will be interviewing me for an article which will be included. I'll tell you - the cool and crazy things and people I keep finding on my journey! I am one lucky man, and I appreciate it every day.

From Trois_Couleurs Twitter:
-2 ° C in Paris but it feels warm. Hedlund, Dunst, Mortensen, Riley, Sturridge, and finally Stewart: just finished interview to "On the Road" cast.There will also be an English version of our special #OnTheRoad issue. Thank you for the interest!
Note: Kristen was interviewed last week. The other cast before then.
* SNOW WHITE & THE HUNTSMAN
- New Stills and BTS pictures:
*More
HERE
IN OTHER NEWS
- Rob won 'Film Star of the Year' at the The Richard Attenborough Film Awards, the UK's annual regional film awards.
- Kristen in Paris
(LINK)
- Kristen #27 on AskMen Top 99 of 2012 list:
While Kristen Stewart has a particularly rabid following for such a young actress, we're guessing (hoping?) you don't consider yourself a Twi-hard. Still, just because you're not a Stephenie Meyer disciple doesn't mean you can't still be a fan of Twilight's leading lady. A reluctant star who seems genuinely bothered by all the attention she's received as Robert Pattinson's love interest (both onscreen and off), Stewart has an edge to her that most other tween favorites don't. And maybe it's that hard-to-get attitude that makes us like her so much. Regardless, forget Edward and Jacob -- consider us Team Bella. Is that an option?
- Rob #4 on GQUK's Best Dressed Men of 2012:
"Talent and looks are an effortless combination. Rob always manages to intrigue. whether he is dressed down with an old T-shirt or up in a sharply cut suit." Frida Gianini, creative director, Gucci.
GQ: The world's favourite vampire has the looks that can shut down the internet- literally.
- Behind the scenes of Kristen's Vogue Italia shoot:
*Screencaps
(MORE)
- Rob and Kristen are one of InStyle's Most Stylish Couples
(LINK)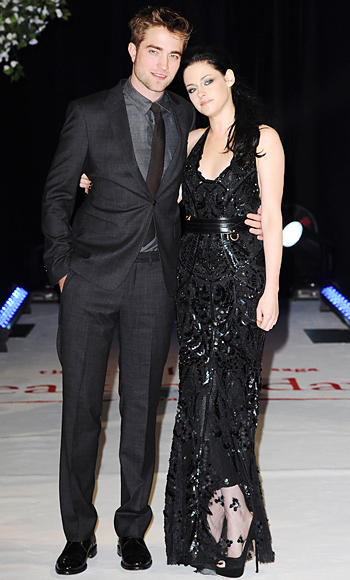 Robert Pattinson and Kristen Stewart
Mum may still be the word on this on-screen couple's real-life relationship, but their ability to wow on the red carpet is undeniable. Stewart sticks to slinky gowns (at left, in Roberto Cavalli), while Pattison maintains his It-Brit Boy image in shiny black and maroon suits.
CASTING RUMOR MILL/DOWNTIME
Kristen and Rob are both in L.A.