Current Projects
*Bel Ami
No news
*Breaking Dawn
New Stills
New Edward portrait
* Cosmopolis
David Cronenberg mentions Rob and Cosmopolis in Vogue Italia
"Cronenberg has just finished shooting "Cosmopolis", based on a novel by Don DeLillo and produced by Paulo Branco. It's the first time I have a film competing in a festival, not yet in theaters, and another in post production. Whatever happens, I'll start the editing this summer and next year you'll see me again in Venice with "Cosmopolis" and Robert Pattinson, one of the most intense actors of this generation. He'll blow your mind" (n.b. this interview was done before the Variety interview) "SOURCE/TRANSLATION
* On the Road
No news
* Snow White and the Huntsman
No specific news, filming is underway.
In Other News
- Water for Elephants DVD and Blu Ray out on November 1st in the US.
- Rob's WFE shirt auctioned off for charity.
- News about Unbound Captives
Latest official production info on UNBOUND CAPTIVES --
HYDE PARK ENTERTAINMENT
STATUS: Spring 2012
LOCATION: New Mexico
PRODUCER: Ashok Amritraj - Gil Netter
WRITER/DIRECTOR: Madeleine Stowe
LP: Grant Hill
CAST: Hugh Jackman - Rachel Weisz - Robert Pattinson
GIL NETTER PRODUCTIONS
ATLAS ENTERTAINMENT
The year is 1860 and a turbulent America is on the brink of a civil war. The story tells the volatile, epic tale of Tom, a white frontiersman, raised Comanche and his love for May, a woman whose son and daughter are kidnapped by Indians. Their parallel lives intersect as they battle through a vast and violent landscape, bound together by their deep love and haunted pasts, their willfulness, and a relentless search to find her disappeared children. (SOURCE)More info via JoshDickey of Variety "He's attached. That means if and when they make it, he's informally committed to be in it. First reported 09. I spoke to the producer Thursday. Rob is still attached to the project. Now financing has to come together."
- Kristen makes a cameo in Marcus Foster's "I Was Broken" video
Story behind the video:
Singer-songwriter Marcus Foster has been able to call on famous friends including the stars of the Twilight films in his quest to make the big time after 10 years playing in London pubs and bars. Foster, 25, who has a debut album coming out this month, enlisted Kristen Stewart to star in his new video, launching today on YouTube. And growing up in south-west London, Robert Pattinson * Stewart's co-star in the vampire movies franchise * was Foster's best friend at Harrodian School in Barnet. The Boat That Rocked star Tom Sturridge, whose siblings were fellow pupils, became another pal. So when Foster got a record deal and decided the first single, I Was Broken, from the album needed a boost, Sturridge devised a script and Stewart responded quickly to an email request to star. "I called in favours. I'm really lucky," Foster said. The video was wrapped up in five days in Kentish Town last week. The single is out on September 19 with the album, Nameless Path, a week later.
SOURCE
Gifs from the video
- Makeup artist Beau Nelson talks to Beauty Etc Magazine about Kristen's make up secrets
(LINK)
- More TV Week Outtakes
Click for buttload
MORE
Rumor Mill/Downtime info
Rob has touched down in London this morning. And supposedly with an extra reason next to being reunited with his loved ones....he's been asked to be godfather to a baby. The christening is today. The know-how? Friend of Matilda Sturridge (Tom's sister) tweeted Rob would be godfather. Matilda had a baby boy a while ago and she and Rob are friends, so her son is probably the one being christened.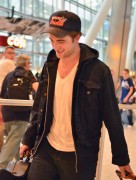 Rob at Heathrow
(LINK)
Kristen meanwhile is busy with SWATH but managed to have some fun this week. - On Wednesday she took part in '...And Darkness Descended' which meant she was dropped in a warehouse with the goal of getting out of a scary maze they set up there.
(LINK)